What is Hosting Definition in 2022?
Hosting provides you space or place to store data that can be accessed worldwide from the internet. Hosting a space provided by the server where you can put files on your website. To explain this in another way, suppose you want to build a home. First, you need property where you can build a house. So it's the space you need to create a website.
Why do you need hosting in 2022?
Hosting is an essential part of running a website as it provides you area or space to store your data, which everyone can see. Likes your front page design, pics, images, and all articles.
Before purchasing Hosting, you need a domain ( Domain is the address of your website. for example, www.xyz.com ). Some hosting companies also offer free domains with hosting.
Difference between Free Hosting VS Paid Hosting in 2022
I will recommend you to get paid hosting as it is secured and more reliable. I haven't used free hosting so far, so use it at your risk.
List of 6 Web Hosting Sites in 2022 which provide free hosting.
List of Best Hosting websites that provides Paid hosting in 2022
Bluehost
Godaddy
1and1
Hostgator
iPage
List of Top 5 Best Web Hosting Sites of 2022
Blue Host
Hosting Details in 2022
Bluehost is one of the popular web hosts with simple, fast, and secure hosting. It has all types of plans to create a website of any category; using It is very easy. That's why it's ideal for beginners who need a little assistance. They also provide 24/7 customer support service, which can help you if you face any problem. They offer unlimited disk space, Emails, and transfers. When you purchase hosting, they will also give you one FREE domain.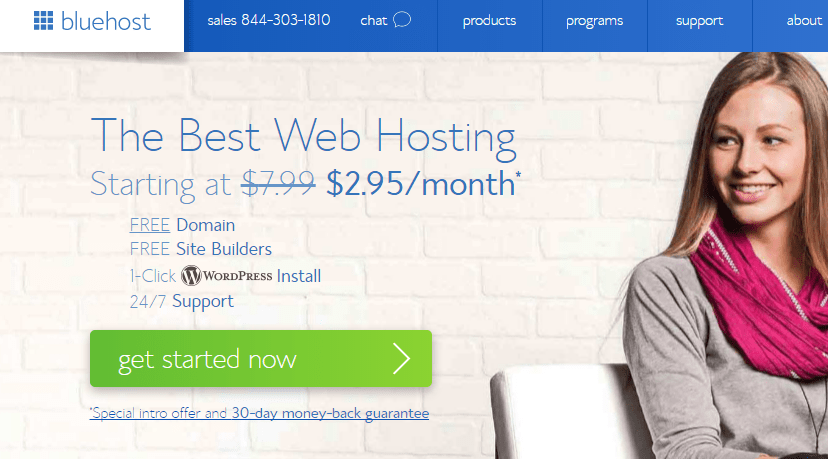 Hostgator
Hosting Details in 2022
Hostgator is also simple and easy to use. They also give free Weebly site builder, which is easy to use, and you can create the web by drag and drop. It provides unlimited disk space and bandwidth on all their plans and gives you 45 days money-back guarantee.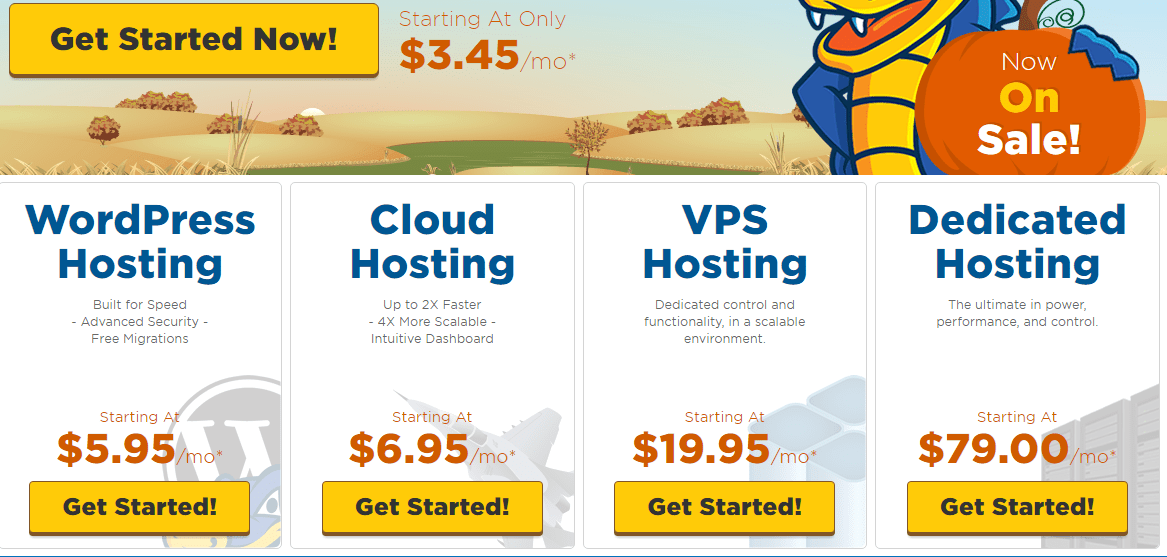 Godaddy
Hosting Details in 2022
Godaddy is one of the best hosting company for WordPress users in 2022 as they provide
24/7 technical support
9% uptime guarantee
Unlimited traffic
WordPress integration
Money-back guarantee
24/7 security, DDoS protection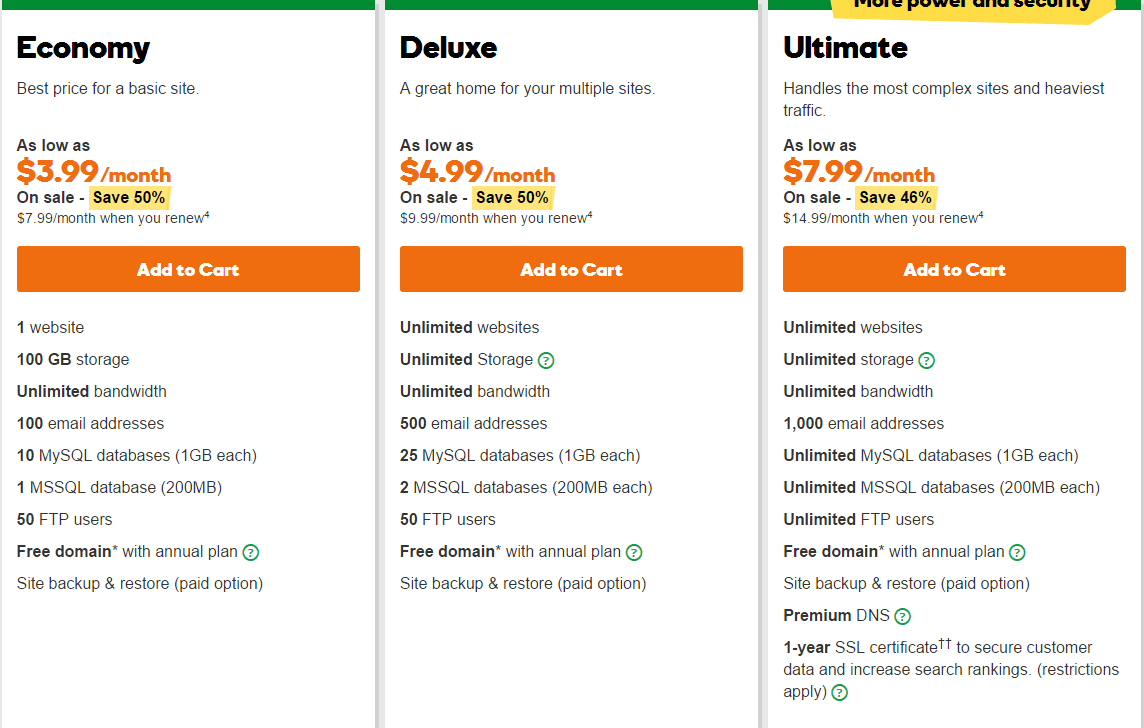 IPage Hosting Details in 2022
iPage is also a good choice for the businessman as iPage provides an easy-to-use hosting experience for beginners.
Featuring easy setup and superb reliability since 1998
FREE domain and FREE Google marketing included
Unlimited disk, bandwidth, and emails
FREE site builder and shopping cart
1and 1
Hosting Details in 2022
1 and 1 is one of best to get your website to grow easily as they have a lot of software which can help to grow your business, they also provide
24/7 technical support
Money-back guarantee
Free daily backups
Unlimited traffic, emails
WordPress integration
9% uptime guarantee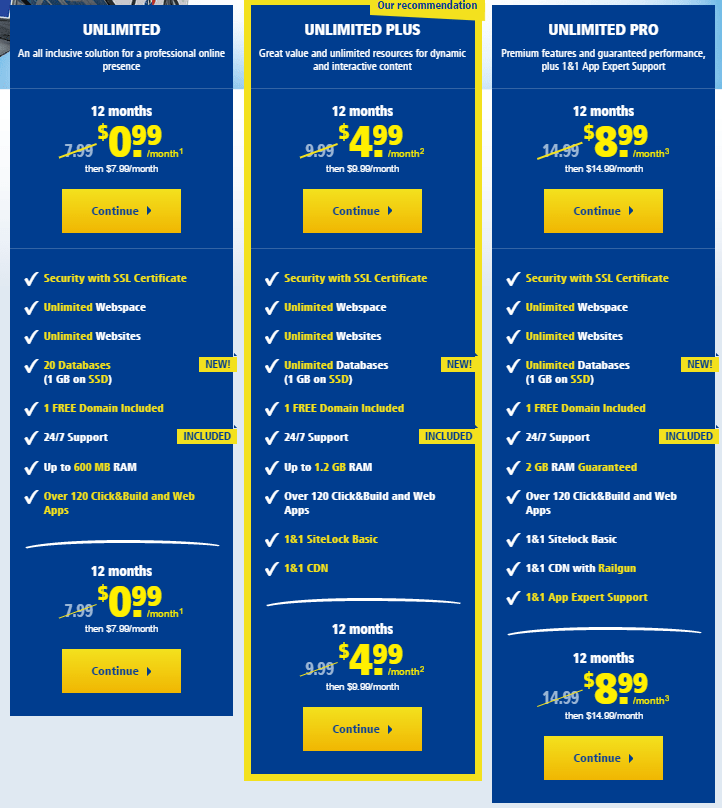 Comparison of All Hosting in 2022
| | | | | | |
| --- | --- | --- | --- | --- | --- |
| Name | Bluehost | Hostgator | Godaddy | IPage | 1and1 |
| Free Domain | Yes | No | No | Yes | Yes |
| Speed | Best | Average | Average | Average | Best |
| Overall | 10/10 | 7/10 | 7/10 | 7/10 | 9/10 |
| Price | 2.95$/m | 3.45$/m | 3.99$/m | 1.99$/m | 0.99$/m |
Note: These all Rating expressing my own views.
Personal Experience and Suggestion
Personally, I would recommend BlueHost as I am also using BlueHost for this website; it has Good Speed and Full Customer Support in case of any help or issue. If you are a professional, go to BlueHost.
How to get Hosting in 2022?
Go to a website and choose a package of your choice to remember a different package for different purposes. Suppose you want to get hosting for your simple website, then you can get the basic package, but if you want to run a large business website, you need to get hosting according to it. You can also contact the hosting service and ask them for the best option for your business by sending them detail.
After getting an idea of which hosting package suits you, click on the buy now and provide all information like email, phone number, and address.
Now you have a Hosting with a username and password that you entered while purchasing it.
Note: These Hosting plans vary from time to time, so their prices are not fixed. Some hosting also provides Special sale offers in 2022, so always look for it.